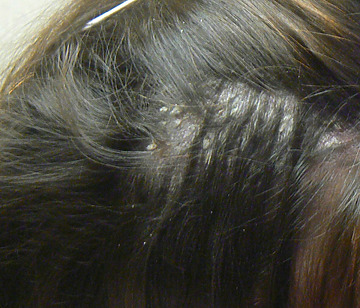 Pityriasis Amiantacea: Symptoms, Diagnosis, Causes & Treatment
There are many different scalp disorders out there – some more common than others – that can affect the health of your scalp and the way your hair grows.
One condition that can affect many people is Pityriasis Amiantacea. If you're worried about whether you might be experiencing this, or would like to know more about the condition, keep on reading.
What is pityriasis amiantacea?
Pityriasis amiantacea is a scalp condition where there is excessive scaling across the scalp. It can be an uncomfortable confidence-crushing condition that can appear in patches anywhere across your scalp.
They will most commonly look like thick, silver or yellow scales that completely surround the hair shafts around the scalp and can start to 'stick' clumps of your hair together.

Image courtesey of Researchgate.net
Symptoms of pityriasis amiantacea
Pityriasis amiantacea is defined as an inflammatory disease or an eczematous condition that can be quite troublesome and stressful for the person who is suffering from it.
Some of the most common symptoms of this condition include:
Silvery-white scales

Dry scalp

Hair loss

Dandruff-like flaking

Burning sensation

Scalp redness and bumpiness
If you're noticing any of these symptoms, we'd suggest visiting your GP as the first port of call as they will be able to help identify your condition and discover what the underlying cause may be.
What are the causes of pityriasis amiantacea?
Pityriasis amiantacea is usually a reactive condition, rather than a diagnosis. It's normally associated with conditions such as:
Atopic dermatitis

Tinea capitis
One study [1] found that psoriasis accounted for 35.3% of pityriasis amiantacea cases; aggregated seborrheic dermatitis and atopic eczema for 34.2%; and tinea capitis for 12.9% of cases.
Similarly, in a study of 59 patients [2] it was found that 15% had suffered from psoriasis, and 19% were aware of psoriasis in their relatives, proving that this is another common condition that can result in pityriasis amiantacea.
Just because you are experiencing one of these conditions, it doesn't automatically mean that you will also suffer from pityriasis amiantacea as it's not prevalent in all cases.
However, if there is no specific underlying cause that has brought on this condition, you may hear it referred to as idiopathic pityriasis amiantacea.
Although there is not a lot of frequency data that can suggest how many people are affected by this condition, some studies have found a possibility that some patients present some sort of genetic or environmental predisposition more than others [3,4].
Who is most affected by pityriasis amiantacea?
Children are far more likely to be affected by pityriasis amiantacea, although it is possible for the condition to occur at any age [1].
Although the condition is relatively rare, the condition is more common in females than it is in males. One study found that the prevalence male:female was 1:1.6 [5] with a mean age of 42.4±23.4 years.
How to treat pityriasis amiantacea?
The treatment of pityriasis amiantacea will largely come down to the underlying disease. So it's important to discover the cause before you start looking into different treatment options.
Some of the most common treatments for pityriasis amiantacea include:
Mineral or vegetable oils that are used to loosen up chunks of scales on the scalp

Leave-on creams or special shampoos that are formulated to treat scalp conditions

Topical steroids and steroid creams for hair loss, which are particularly useful for patients suffering from psoriasis or dermatitis

Antifungal shampoos, which are useful for treating underlying seborrhoeic dermatitis

Oral antifungal treatments for confirmed tinea capitis infection

Oral antibiotics for bacterial infections
In one study, patients were given topical ketoconazole, which is a treatment usually administered for fungal skin infections and dandruff. With daily application of a 2% strength shampoo, all patients were able to treat their pityriasis amiantacea within 6.4 months, on average [1]. Find out more about using a ketoconazole solution like Nizoral shampoo for hair loss.
Most patients often respond well to the range of treatments that are listed above, especially when they are administered in accordance with underlying conditions. For those who don't notice any positive changes, or who experience side effects from taking treatment, scales can also be removed by surgical scissors [5].
Does pityriasis amiantacea cause hair loss?
Pityriasis amiantacea can cause temporary hair loss in some patients during certain treatments, especially when the crust is being removed from the hair follicles. However, there is still a lack of frequency data that shows how common hair loss is in patients with this condition.
The hair loss is normally temporary and will continue to grow back as normal once treatment for the condition has finished. However, hair loss may make the condition even more stressful for patients.
If you are suffering from hair loss due to treatment for your condition, there are a few different ways that you can combat this. You may choose to take oral tablets, such as Finasteride and Dutasteride, or topical treatments such as Minoxidil.
However, it's very important that if you are thinking about taking any hair loss medication you consult your GP first to ensure that these treatments won't have any negative effects.
Worried about hair loss?
Hair loss is something that happens to many men and women every year, and in many cases, it is completely treatable – either through medication or something more permanent like a hair transplant.
If you're worried about losing your hair due to pityriasis amiantacea, it shouldn't be such a big cause of concern as this is normally a temporary side effect.
If you'd like to talk to someone about hair loss, and what your options are should you choose to treat the condition, you can talk to one of our experts at Wimpole Clinic.
References:
[1] https://www.ncbi.nlm.nih.gov/pmc/articles/PMC5087242/
[2] https://pubmed.ncbi.nlm.nih.gov/6224710/
[3] https://pubmed.ncbi.nlm.nih.gov/22481666/
[4] https://pubmed.ncbi.nlm.nih.gov/12694489/
The Wimpole Clinic offers FUE Hair, Beard & Eyebrow Transplants & Trichology.
Talk to a specialist ☎
020 7935 1861
.
Blog search
Book a consultation
Simply fill in your details in the form below and we'll get in touch with you shortly.