Can You Get Alopecia Areata Treatment On The NHS?
Alopecia areata is a common form of hair loss that affects 1 in every 170 adults in the UK, which is around 300,000 people [1]. It's an autoimmune condition in which white blood cells attack the hair follicles, leading to small round bald patches on the scalp.
Some alopecia areata treatments are available on the NHS, but others aren't. In this article, you'll learn:
What alopecia areata is

Which alopecia areata treatments you can get on the NHS

Private treatments available for alopecia areata.
What is alopecia areata?
Alopecia areata is a form of hair loss that will usually appear as patchy areas of baldness around the scalp. Unlike other types of baldness, alopecia areata does not cause any scarring to the scalp. It's rarely itchy or flaky.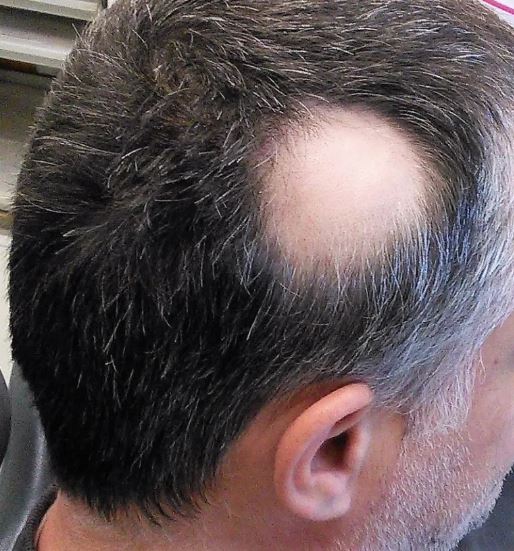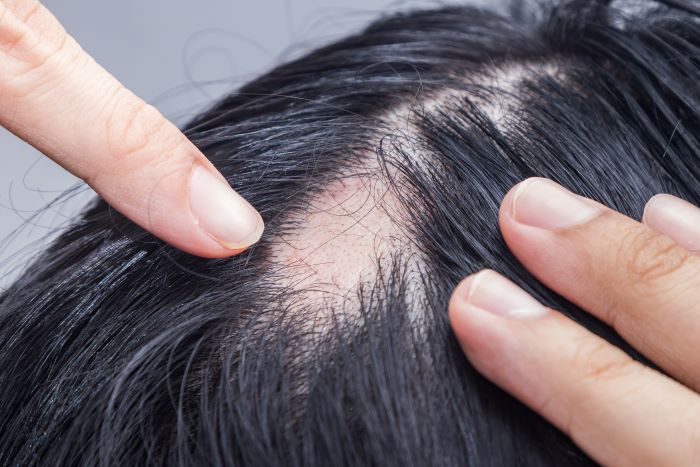 You can experience this condition anywhere on your body, including your scalp, eyebrows, eyelashes, beard, armpits, and chest. Beard alopecia areata is known as alopecia barbae.
Alopecia areata is an autoimmune condition [2]. The hair follicles become damaged and are unable to produce hair, leading to visible bald spots across the scalp or affected body area.
While the exact cause of alopecia areata is unknown, researchers believe it could be caused by one or a combination of the following:
A family history or genetic predisposition to alopecia areata

Environmental factors like infections

Vitamin deficiencies.
Alopecia areata often clears up without treatment within one year [3]. But it's possible for the condition to recur even after the initial bald spots have cleared up. Some people may even go on to experience total hair loss known as alopecia universalis, though this is rare.
Can your GP help with alopecia areata?
If you suspect you have alopecia areata, your GP is a good place to start to get advice and enquire about different treatment options. They can perform certain tests to diagnose your hair loss condition.
Some hair loss blood tests may be available on the NHS. Blood tests are especially important for diagnosing women's hair loss as the causes aren't always obvious.
Your GP should be able to help you uncover the root cause of your hair loss and discover the triggers that cause alopecia areata flare-ups. You may need to monitor certain lifestyle factors, including:

Improving your diet

Monitoring your lifestyle

Keeping track of your stress levels

Considering whether any of your current medications could be contributing to hair loss.
Your GP may also be able to advise you on some of the best treatment options for alopecia areata, but not all of these are available on the NHS.
Can you get alopecia areata treatment on the NHS?
Certain alopecia areata treatments can be prescribed by your GP, while others are available over-the-counter. These include:

Minoxidil — a topical spray, foam, or solution you apply to the scalp (available over-the-counter)
Corticosteroid creams —

steroid creams for hair loss

that are applied to the bald patches

Corticosteroid injections — injected near balding areas

Contact immunotherapy – deliberate allergic reactions that suppress autoimmune reactions in your hair follicles

Immunosuppressant drugs — medications that suppress your immune response, such as Methotrexate or Ciclosporin

Antihistamines — over-the-counter or prescription-strength options are available.
For prescribed treatments, you'll usually need to pay the standard NHS prescription price. You may be able to waive the fee if you're exempt from paying for NHS prescriptions.
In some situations, you may be able to get the NHS to cover your hair treatment costs if it's causing serious distress, but most people will need to pay for treatments.
Hair transplants aren't usually effective for treating alopecia areata. Scalp micropigmentation can be effective for disguising small bald patches on the scalp.
Getting private treatment for alopecia areata
Because alopecia areata often clears up on its own, some GPs prefer to give the condition time to resolve itself before issuing prescriptions. This usually depends on the severity of your condition and the impact on your general health and wellbeing.
If your GP won't refer you for treatment and you want to speed up the process, you can get private treatment at specialist hair loss clinics across the UK. You'll need to pay for this yourself, but it often means you'll see results much more quickly than with NHS treatment.
Private hair loss clinics can perform their own diagnostic tests to assess your hair loss. Alternatively, with your permission, they can use the information from your NHS doctor (such as blood test results) to create a bespoke treatment plan for you. This will give you the best possible chance of quickly addressing and reversing your alopecia areata symptoms.
Alopecia areata treatments at the Wimpole Clinic
With more than 45 years' experience, the Wimpole Clinic is one of the longest-running hair loss clinics in the UK. Our hair loss experts can help you diagnose and treat alopecia areata, as well as a range of other hair loss conditions.
Book a free consultation to find out more about alopecia areata treatments available at the Wimpole Clinic.
The Wimpole Clinic offers FUE Hair, Beard & Eyebrow Transplants & Trichology.
Talk to a specialist ☎
020 7935 1861
.
Blog search
Book a consultation
Simply fill in your details in the form below and we'll get in touch with you shortly.