Sebastian Vettel's Hair Transplant: Everything You Need To Know
Sebastian Vettel is a name that you may know better for tearing up the track as a Formula 1 driver but, he has also garnered a lot of attention for himself around his supposed hair transplant.
Hair transplants are very common in the celebrity space, but it's not just celebrities that frequently get hair transplants. 85% of men by the age of 50 experience male pattern baldness [1], with the first signs usually starting around the late twenties and early thirties.
But it's not just men, around 8 million women in the UK also experience hair loss or alopecia [2] – known as female pattern hair loss.
For anyone who is experiencing hair loss, getting a hair transplant is a common solution to help restore your hair to its former glory – and this was the case with the celebrity we'll be talking about today, Sebastian Vettel.
In this article, you'll find out:
Who is Sebastian Vettel

If Sebastian Vettel has had a hair transplant

Sebastian Vettel's hair transplant timelines

Which type of hair transplant Sebastian Vettel has had

How much did Sebastian Vettel's hair transplant cost
Who is Sebastian Vettel?
Sebastian Vettel is a Formula 1 driver that made a name for himself as an extremely successful driver. To this day, Vettel holds the title as the youngest Formula One World Champion, gaining his first title in 2010 when he was just 23 years old.
The now-retired 34-year-old German was known as one of the 'elders' of the spot alongside names such as Lewis Hamilton and Fernando Alonso. Despite not being able to see him race anymore, his influence on the sport has been significant thanks to his impressive driving skills.
Why did Sebastian Vettel want a hair transplant?
Unlike other celebrities, like
James Nesbitt
and
Rob Holding
, Sebastian Vettel hasn't been the most open about his reasons for getting a hair transplant so we can only speculate as to why he may have wanted to undergo the procedure.
Sebastian is thought to have undergone a hair transplant procedure in 2021, a year after he cut ties with Ferrari, the constructor he had been racing for between 2015 and 2020. This was a notoriously bad partnership that had caused a lot of stress for the driver, which may have been one of the reasons why his hair loss became so severe.
Both
stress and anxiety
are known to accelerate hair loss, and even cause temporary balding in some cases – sometimes referred to as
telogen effluvium
. This type of hair loss is caused by abnormal chemical activity in the body which causes your nervous system to send harmful messages to your hair follicles [3], which can cause hair loss.
This may be one of the reasons that spurred Sebastian to get his hair transplant, but it also may have just been down to the natural balding that happens over time.
Has Sebastian Vettel had a hair transplant?
Sebastian Vettel has never come out and announced whether he has had a hair transplant or not, so we can't say conclusively that he has had one – but the evidence would suggest that he has undergone some sort of treatment.
In 2021, the F1 driver sported a very short hairstyle and had significant receding around his hair line which would suggest he was experiencing some kind of balding. Then in 2022, he started to post pictures and make public appearances with a very full head of hair, which would indicate that a hair transplant has taken place.
Sebastian Vettel's hair transplant timeline
In 2015, when Sebastian first started driving for Ferrari, you can see that he still had a full head of hair. There may be a slight bit of receding around the hair line, but you can't see any obvious signs of balding at this point.
However, fast forward a few years to 2021 and many photos show the driver with much thinner hair, especially around the hairline.
Then, at the start of 2021 during pre-season testing, images were released of the driver where he appeared to experience some significant balding. He had lost most of his hair around the hair line and only had hair remaining on the sides.
The above pictures were taken shortly before Vettel is thought to have undergone his hair transplant. He came back in 2022 for the next season of racing sporting a very full head of hair.
It seems as if all of Vettel's hair – and some more – has grown back, most likely thanks to a successful hair transplant procedure.
Which type of hair transplant did Sebastian Vettel have?
Because Vettel hasn't spoken much about his potential hair transplant, it's hard to say which type of hair transplant he did get.
However, it is likely that he either got a
Follicular Unit Transplantation (FUT)
or a
Follicular Unit Extraction (FUE)
as they are the two most popular forms of hair transplant that you can get today.
A FUT transplant involves removing a strip of skin (that's called a graft) that has healthy follicles on it. This piece of skin will be taken from areas of the scalp where hair growth is occurring normally. Then this graft will be dissected into tiny clusters of follicles and reimplanted into areas where you are experiencing balding.
On the other hand, FUE transplants involve using a tiny punch tool to extract groups of follicles from areas of the scalp where hair is growing. Then your surgeon will make small incisions in your balding areas and reimplant the individual follicles back onto your scalp.
As we haven't been able to spot any visible scar on the back of his head, it is most likely he has had an FUE hair transplant.
How much did Sebastian Vettel pay for his hair transplant?
We can't say for sure how much Sebastian Vettel paid for his hair transplant but, considering he is one of the most successful drivers in his sport, it's safe to say that he would have gone to a top private clinic to get his procedure done.
The cost of his hair transplant would largely depend on the
number of grafts
he required and the country he chose to have his procedure.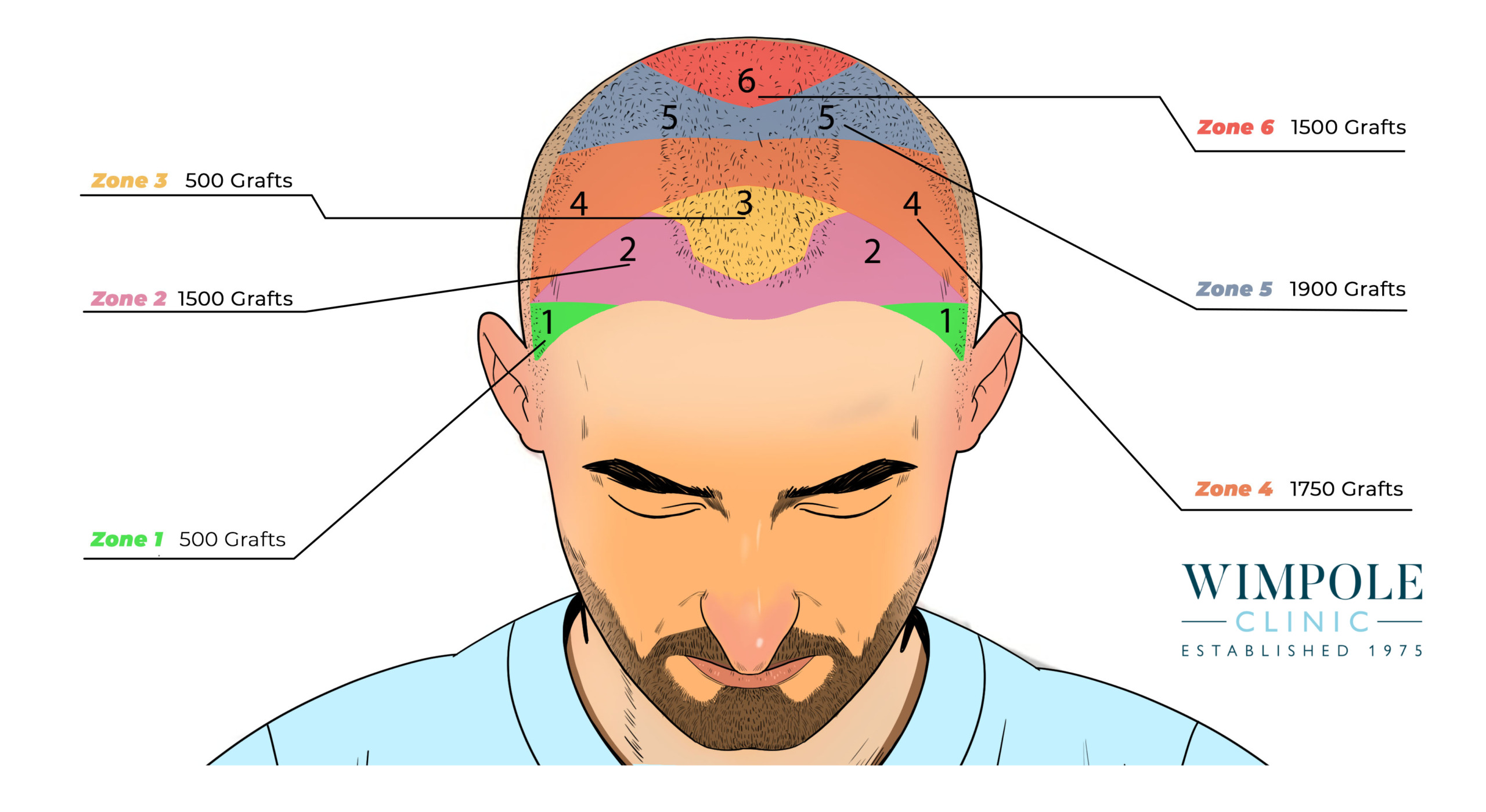 In the UK, the average cost of a hair transplant is £4,820. If he had visited a reputable UK clinic and required approximately 3,000 grafts then he may have paid £10,000. It is safe to say he did not require
hair transplant finance
.
Where did Sebastian Vettel get his hair transplant?
We also don't know where Vettel got his hair transplant done. The F1 driver is from Germany and now lives in Switzerland, so we can assume that he would have got his transplant done in one of these two countries.
Because of his celebrity status, he would have most certainly gotten a hair transplant at an exclusive private clinic.
Are you considering a hair transplant?
If you are struggling with hair loss and Sebastian's story has made you consider getting a hair transplant for yourself, there are plenty of different options that you may want to think about.
You may be looking at the pictures of Sebastian before he got his transplant and thinking that it looks similar to what your hair looks like now. If this is the case, we'd love to talk to your and take you through all of your options.
At Wimpole Clinic, our team of hair transplant specialists is always on hand to help you with your hair loss journey – just like they've helped hundreds of other men and women across the country. We're known for being among the most experienced specialists on Harley Street and are very proud of the results we've been able to achieve for our range of clients.
If you want to find out more about the work we do, take a browse through some of our
before and after images
, or read some of the
hair transplant clinic reviews
we have received from happy clients.
When you're ready,
book a free consultation call with us
and we can get into the details of how a hair transplant could work for you.
References:
[1]
https://www.healthline.com/health/why-do-men-go-bald
[2]
https://www.health.harvard.edu/staying-healthy/treating-female-pattern-hair-loss
[3]
https://www.healthline.com/health/telogen-effluvium
The Wimpole Clinic offers FUE Hair, Beard & Eyebrow Transplants & Trichology.
Talk to a specialist ☎
020 7935 1861
.
Blog search
Book a consultation
Simply fill in your details in the form below and we'll get in touch with you shortly.