Is it OK to take Minoxidil 3 times a week?
Hair loss is a common problem that affects over 40% of men aged 40+ across the globe [1]. Many men who are suffering from this choose to take medication or treatments to prevent further hair loss and stimulate growth.
If you've been thinking about treating your hair loss, you're probably already aware of the brand Rogaine® who make a popular Minoxidil treatment.
Although this is a topical treatment, it's still important to pay attention to the recommended dosage and usage instructions to make sure you're getting the full benefits.
1 ml of Minoxidil should be taken twice a day to achieve the full results, but if you forget to miss a dosage, or worry about sensitivity you may wonder whether it's OK to take Minoxidil 3 times a week. Keep on reading to find out.
What is Minoxidil?
Minoxidil is a topical treatment that both men and women can use to prevent hair loss. You'll most commonly find this treatment under the brand name Rogaine®, but you may also be able to find other off-brand versions for a cheaper price.
There are two different versions of Minoxidil from Rogaine®, which are a 5% foam and a 5% solution. Both of these products contain the same amount of Minoxidil so will provide the same hair-stimulating qualities.
Other off-brands also offer Minoxidil in 2% formulas that promote hair growth at a slower rate but can result in less irritation and side effects.
Read more about Minoxidil in our full guide, and find out if Rogaine really works.
Is Minoxidil an effective hair loss treatment?
If you are looking for a product that can prevent hair loss and stimulate hair growth, Minoxidil is a good place to start.
In several clinical trials [2,3,4], the topical treatment was found to be very effective and led to improvements in both hair density and growth.
Unlike other oral treatments, like Finasteride and Dutasteride, Minoxidil can be used by men and women and works by stimulating blood flow rather than affecting your hormones. Learn more in our comparison of Finasteride vs Minoxidil.
See the before and after results of using Minoxidil.
What's the recommended dosage of Minoxidil?
According to NICE (the National Institute for Health and Care Excellence) the recommended dosages for Rogaine® are:
Foam: Apply 0.5 capful twice daily, to be applied to the affected areas of scalp; discontinue if no improvement after 16 weeks.

Solution: Apply 1 mL twice daily, to be applied to the affected areas of scalp; discontinue if no improvement after 1 year.
It's recommended to have a 12-hour interval in between each dosage, and the dosage will still remain the same if you're using one of the 2% formulas of Minoxidil.
Can you take Minoxidil three times a week instead?
Like any medicine or treatment, you'll get the best results by using it according to the instructions. In the case of Minoxidil, you're advised to use 1ml of solution (or ½ a cap-full of foam) twice a day. Therefore, using Minoxidil three times a week instead will not get you the results that you require.
This is because reducing the frequency of Minoxidil application results in delivering a reduced dosage of the drug. Without the instructed dosage, the product will work a lot slower at improving your hair loss. Although there are no studies that have looked into the usage of Minoxidil three times a week, many studies have proven that lower dosages provide fewer results [4].
Going against the recommended dosage and applying Minoxidil more or less than the stated amount will not improve your results. Instead, it's continued, regular use that is needed for you to see any noticeable improvement.
Applying Minoxidil more often than the recommended dosage could even increase the risk of experiencing skin irritation or other side effects.
If you're not seeing any results, remember that most people won't notice any changes until around eight weeks of consistent use [5]. It will also take up to four months before you start seeing new hair starting to grow.
How do you apply Minoxidil?
Minoxidil is an easy topical solution to apply to your scalp. But, depending on the formula that you're using, the application may be slightly different. Find out how to apply Minoxidil and the various types of solution.
After you've applied the product, you need to let it dry completely before doing anything else with it. The two formulas can also stain bed linen, so it's best not to go to sleep before the product has completely dried.
There's some evidence to suggest that derma rolling after a hair transplant can boost the effects of Minoxidil. If you're interested in using these treatments in conjunction, speak to your hair loss consultant.
What are the side effects of using Minoxidil?
Minoxidil does come with some side effects, which you may be more at risk of if you don't use the recommended dosages.
Potential side effects include:
Irritation

Rashes

Allergic contact dermatitis
Side effects will normally disappear after the first few weeks of use. If they don't, or you're having a severe reaction, it's best to speak to your GP.
How often is Minoxidil prescribed?
In the main, Minoxodil is very safe. According to members of the International Society of Hair Restoration Surgery (ISHRS), Minoxidil was prescribed to patients 53% of the time and is the second most popular hair loss medication for hair transplant clinics.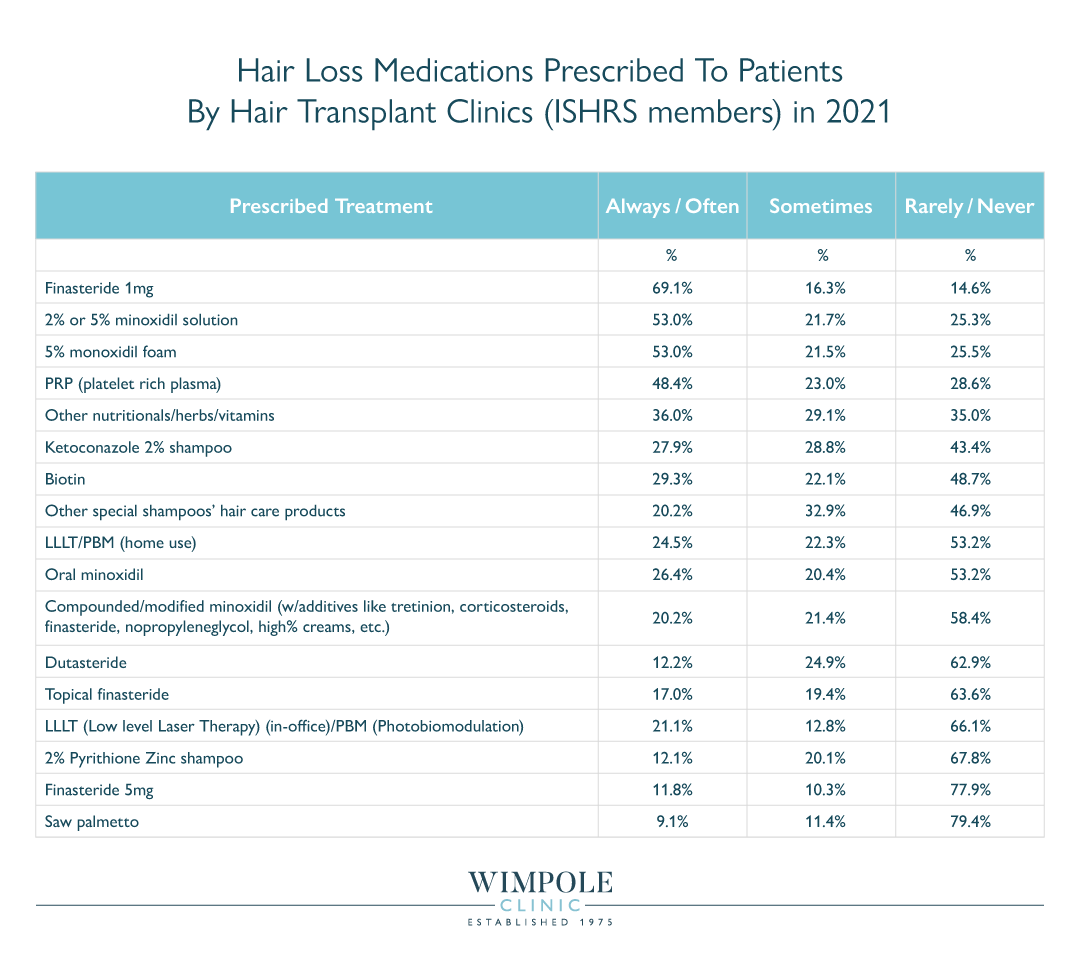 Effective hair loss treatments at Wimpole Clinic
If you've tried all the topical and oral treatments for hair loss and still can't seem to stop your hair from falling out, we can help you with an effective and long lasting solution – hair transplants.
At Wimpole Clinic, we specialise in FUE (Follicular Unit Extraction) transplants and FUT (Follicular Unit Transplantations).
If you think a hair transplant could be a potential next step in your hair loss journey, we'd love to talk to you in a no-obligation consultation call.

References:
[1] https://pubmed.ncbi.nlm.nih.gov/9865198/
[2]https://www.jaad.org/article/S0190-9622(03)03693-4/fulltext
[3] https://www.ncbi.nlm.nih.gov/pmc/articles/PMC4362890/
[4] https://pubmed.ncbi.nlm.nih.gov/12196747/
[5] https://www.ncbi.nlm.nih.gov/books/NBK482378
[6] https://www.researchgate.net/publication/323951238_Loose_anagen_hair_syndrome_Treatment_with_
systemic_minoxidil_characterised_by_marked_hair_colour_change
The Wimpole Clinic offers FUE Hair, Beard & Eyebrow Transplants & Trichology.
Talk to a specialist ☎
020 7935 1861
.
Blog search
Book a consultation
Simply fill in your details in the form below and we'll get in touch with you shortly.