Eyebrow Transplant Cost UK
Clinics across the UK offer eyebrow transplants to repair overplucked eyebrows, fill in patchy areas, or create fuller, more shapely brows. In 2022, 13.5% of all hair transplant procedures were performed on the eyebrow, making this the second most common hair transplant procedure after scalp hair restoration [1].
But not all eyebrow transplant clinics offer the same value. To get the best possible results, you need to know the cost of a quality eyebrow transplant.
In this exclusive cost analysis, we've reached out to 46 UK clinics to reveal the state of eyebrow restoration treatment across the UK. Here, you'll learn:

How many grafts are needed for an eyebrow transplant
Eyebrow transplant costs by city
How to choose the best eyebrow transplant clinic
What causes eyebrow hair loss?
Eyebrow hair loss has several potential causes. These include:
Congenital eyebrow loss conditions like keratosis
Autoimmune conditions that affect the eyebrow hair follicles, such as alopecia totalis
Frontal fibrosing alopecia, a type of scarring alopecia
Stress, anxiety, trichotillomania, and other mental health conditions
Overplucking
Benefits of an eyebrow hair transplant
Eyebrow transplants are purely cosmetic, but they can elevate your appearance and confidence to new levels. Here are some of the benefits of getting an eyebrow transplant:
It's the most natural-looking eyebrow restoration treatment
Choose the shape and style of your eyebrows
It's permanent, unlike make-up and microblading
Fill in sparse patches with natural hair that blends with your existing brows
Shape your eyebrows after treatment
Have confidence in your appearance
Eyebrow trends tend to change, just like hairstyles. So unlike microblading and eyebrow tattoos, having a full natural brow as a base enables you to shape them however you like.
The eyebrow transplant procedure
Eyebrow transplants are a straightforward procedure that don't require an overnight hospital stay or general anaesthetic. You can learn about the procedure and frequently asked questions here.


How many grafts are needed for an eyebrow transplant?
The number of grafts you need for your eyebrow transplant can vary. Each of these eyebrow sections requires a different number of grafts. Generally, you may need:
200-300 grafts for the head
300-500 grafts for the body
100-200 grafts for the tail
Standard eyebrows need approximately 600 grafts in total, while thicker brows can require more than 1,000. The Wimpole Clinic's eyebrow transplant specialist, Marie, says:
"Graft numbers can range from 50 grafts to over 1000 grafts. It depends on size, light density, really close density, the angulation, design of angulation. We classify eyebrows into 3 main areas: head, body and tail."
How much does an eyebrow transplant cost in the UK?
Our research shows that a UK eyebrow transplant costs £3,820 on average. Here's a breakdown of our findings:
Average UK starting price — £2,699
Average UK cost — £3,820
Average London cost — £3,980
Average Harley St. cost — £4,600

Of the clinics surveyed, four offered a fixed price eyebrow transplant. These prices ranged from £2,200 to £4,600.

95% of clinics offered a free consultation. Just one of the clinics that responded said they charged a flat £75 fee for consultation. But with so many clinics offering a free initial appointment, it's not necessary to pay for consultation in the UK.
Average eyebrow transplant cost by UK city
This table gives a breakdown of how much you can expect to pay for an eyebrow transplant in 18 UK cities:


| City | Average eyebrow transplant cost |
| --- | --- |
| Aberdeen | £3,460 |
| Birmingham | £2,500 |
| Bournemouth | £2,200 |
| Brentwood | £4,500 |
| Bristol | £3,820 |
| Cardiff | £4,200 |
| Dundee | £3,000 |
| Edinburgh | £4,000 |
| Glasgow | £4,280 |
| Harley Street | £4,600 |
| Leeds | £2,820 |
| Leicester | £3,500 |
| Liverpool | £4,420 |
| London | £3,980 |
| Manchester | £4,000 |
| Newcastle | £4,420 |
| Nottingham | £3,640 |
| Sheffield | £3,640 |
Eyebrow transplant costs: London & Harley Street
54% of all UK eyebrow transplant clinics are based in London. 25% are on Harley Street.
Harley Street is famous for its quality private surgery specialists. So it's not surprising that so many clinics are based here. The Wimpole Clinic on Harley Street has been performing successful eyebrow transplants for more than 45 years.
At an average cost of £4,600, eyebrow transplant prices are higher on Harley Street than elsewhere in the UK. You're paying for the skill and experience of some of the best surgeons in the country, although prices here are only slightly higher than in places like Brentwood and Newcastle.
Elsewhere in London, you'll pay just over the national average.
Choosing your eyebrow transplant clinic
Choosing a clinic to perform your eyebrow transplant is a big decision. After all, a bad or complicated eyebrow transplant can actually have a greater psychological impact than having sparse or patchy eyebrows [2]. So it's essential that you know who your surgeon will be, and that you're confident they can create a look you love.
Some clinics advertise eyebrow transplant services, but don't reveal who the surgeon will be.
So until you arrive at the clinic on the day of your surgery, you have no idea of the credentials of your surgeon, and whether they have the skill and experience to perform a successful, high-quality eyebrow transplant.
In our research, 62% of clinics with a visible surgeon came back with a price. By comparison, just 11.7% of websites without a surgeon even responded to our request for information. This rings alarm bells. Clinics that don't respond to a sales enquiry may be less likely to offer a genuine service.
Our research also suggests you'll actually pay less for an eyebrow transplant at a clinic with a visible surgeon:
Average price with surgeon: £3,436
Average price without surgeon: £4,500
As a result, we generally recommend you avoid clinics that don't list a surgeon on their website. Not only will you pay more, but you also don't have the information you need to make an informed decision about their surgical skill.
After all, it's your face we're talking about — so don't take any unnecessary risks.
600 graft eyebrow transplant at Wimpole Clinic
Eyebrow transplant performed by Dr. Luciano: 600 grafts, results after 12 months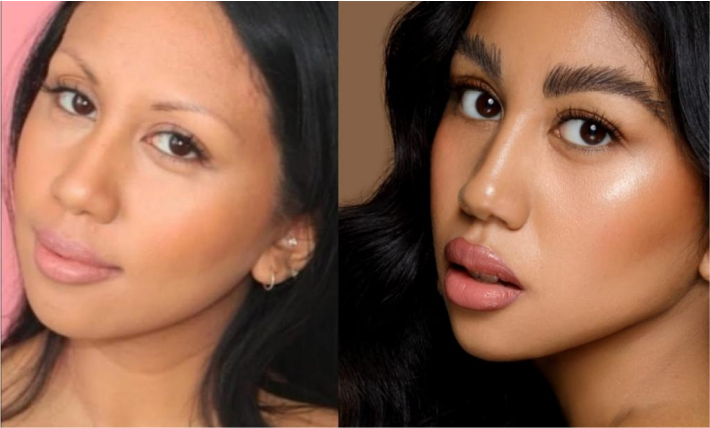 5 reasons to choose the Wimpole Clinic for your eyebrow transplant
You can learn about your surgeon on our website. We list all our staff and their qualifications, so you can see exactly who will be performing your surgery.
Our results speak for themselves. Take a look at our hair transplant reviews and before and after hair transplant gallery to see our long history of success.
We have more than 45 years' experience performing hair restoration procedures. The Wimpole Clinic is one of the longest-running hair transplant clinics on Harley Street.
We've been awarded Hair Transplant Clinic of the Year three years running. We won at the Corporate Live Wire London & South East Prestige Awards in 2021, 2022, and 2023.
We'll answer all your questions free of charge. We believe you should have all the information and advice you need to make the right decision for you, so our consultations are always free.
The Wimpole Clinic offers FUE Hair, Beard & Eyebrow Transplants & Trichology.
Talk to a specialist ☎
020 7935 1861
.
Blog search
Book a consultation
Simply fill in your details in the form below and we'll get in touch with you shortly.