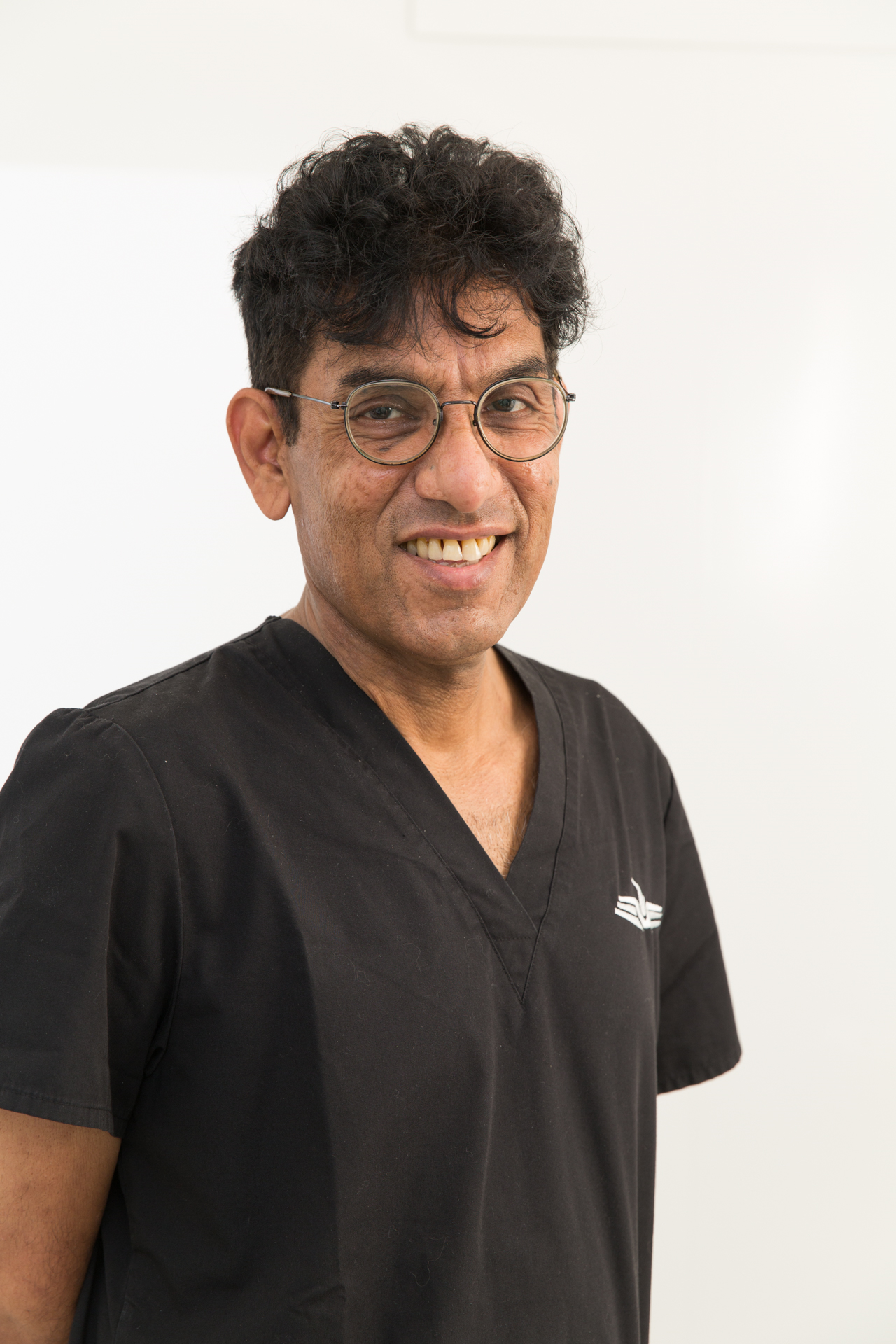 Dr Mir Malkani MBBS, MISHRS, FRCS, aged 54, is a pioneer and leader in the field of FUE Hair Transplants in the UK. He has performed over 4000 hair transplant procedures in the last 15 years and is an innovator in FUE surgery due to his extensive experience. In-fact, Dr Malkani is one of the first three FUE surgeons in the UK and has developed modern FUE surgery techniques. He has been performing FUE surgery since January 2008 and for the last five years almost exclusively performs this technique. Dr Malkani takes a keen interest in every patient and their surgery results. He performs surgical aspects himself thereby ensuring a high standard of work and accountability for each individual patient whilst complying with UK Law.
After achieving a Fellowship of the Royal College of Surgeons in 1997, Dr Malkani had the opportunity to work in a range of specialties in Dublin, London, Sussex and The Midlands. This included Trauma Surgery, General Surgery, Plastic Surgery and Dermatology.  Additionally, Dr Malkani has achieved qualifications in General Practice and has been a practising hair transplant Surgeon on a full-time basis since 2004. He worked for the Wimpole Clinic from 2013 to 2016 as a specialist FUE surgeon before setting up his own hair clinic in 2017 which eventually merged with Wimpole Clinic in 2019.
Since 2015 Dr Malkani has become the expert witness for the UK judicial system in order to provide expert medical opinions to the courts for hair transplant medical malpractices in the UK. He has been pivotal in helping the UK courts in improving the quality of hair transplant surgery in the UK and in patients suffering malpractice from poor unregulated work here in the UK. Dr Malkani has performed hair transplant surgery in England, Scotland, Ireland and in Sweden.
Dr Malkani has taken a keen interest in and practised facial aesthetics, body sculpting and hair loss for many years. His surgical qualifications, experience, skills and understanding of facial cosmetology has enabled him to master the most modern and advanced techniques and artistry of FUE hair Surgery.  These outstanding skills have helped transform the lives of his male, female and transgender patients. He is one of the few around the world whose transaction rate (damage to grafts during extraction) is extremely low and is under 2%. This ensures a high volume of viable grafts and a good result without compromising the donor area. Dr Malkani is also one of a few surgeons in the UK who can harvest body hair in a hair transplant where there is a depleted donor area.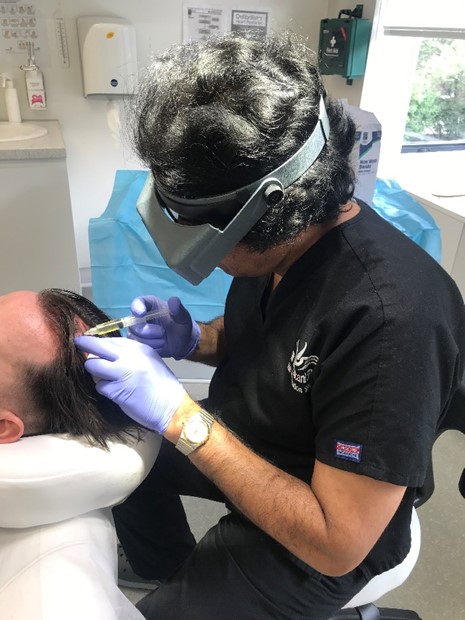 In 2008, Dr Malkani had the honour to be invited to lecture on The Art and Sciences of Hair Restoration surgery and Hair loss in the annual meeting of the British Association of Cosmetic Doctors at The Royal College of Physicians in London. Dr Malkani has trained others in the specialty of Hair Restoration Surgery in The United Kingdom, Italy and Asia. He has worked on thousands of hair transplant patients over the past 16 years and has kept abreast of constant new developments in the industry.
Membership of professional bodies by Dr Malkani includes full membership of The International Society of Hair Restoration Surgery and The British Association of Cosmetic Doctors and British Medical Association. He has been featured by the national press and BBC as one of the key seniors, versatile hair transplant surgeons in the UK.