Travelling To The UK For A Hair Transplant
The UK is one of the world's premier hair transplant destinations. Its popularity is growing as a result of its well world-renowned surgeons operating out of Harley Street, the UK's premier medical district. 26% of UK clinics operate on Harley Street alone.
As one of the largest and longest serving clinics in the UK, the Wimpole Clinic has a lot of experience catering to patients from the US, Europe and even as far as New Zealand. We've created this guide on what you need to know about travelling to the UK for a hair transplant:
Why you should consider going to the UK for a hair transplant
How to choose the right UK hair transplant clinic for you
Where to stay for your procedure.
Why choose the UK for a hair transplant procedure?
Not sure where to go for your hair restoration surgery Here are 7 reasons to choose the UK for your hair transplant procedure.
No hair plugs here — UK clinics use the most modern hair transplant techniques (FUE and FUT) to create natural-looking results.
All UK clinics are subject to strict safety standards — no patient has ever died as a result of a UK hair transplant. As a potential patient, you can look up safety reports for each clinic on the Care Quality Commission website [1].
Only qualified doctors and technicians perform hair transplants in the UK, ensuring your surgery is safe and effective.
London is home to 39% of all hair transplant clinics. There are dozens of UK hair transplant clinics to choose from, so you can find the one that best meets your needs.
If you experience any complications, the UK has fantastic healthcare facilities to help you recover.
The Wimpole Clinic has one of the best reputations for hair transplant aftercare.
Accommodation and transport links are excellent in the UK, especially in the capital, so it's easy to source a hotel and travel to and from your clinic. Good clinics will advise you on this and help you book if necessary.
How to choose a UK hair transplant clinic
There are 3 key considerations when choosing a UK hair transplant clinic:
Cost
Reputation and results
Staff expertise
Here's how to assess these factors to decide which clinic is best for you.
Hair transplant costs in the UK
Based on a man with Norwood stage 2-3 hair loss, the average cost of a hair transplant in the UK is £4,820. Prices depend on how many hair grafts you need, and whether you opt for FUE or FUT.
Cost can be a good indicator of hair transplant quality in the UK. Good clinics don't need to rely on special offers to get patients through the door — but you also don't need to spend tens of thousands of pounds at celebrity hair transplant clinics. At the Wimpole Clinic, we pride ourselves on offering fair, transparent hair transplant pricing.
87% of UK hair transplant clinics offer free consultation. So there's no need to pay for an initial consultation call when so many clinics will speak to you for free.
Choosing a clinic with the right reputation
Anyone considering travelling to the UK for a hair transplant needs to find a clinic with the best possible reputation. Reputation is linked with excellent results — so make sure you look at past patient experiences to see what you can expect at each clinic.
Avoid clinics that don't tell you who the surgeon will be on their website. You could be dealing with a broker, which means you'll pay more, and you can't be sure of the quality of their work.
The best way to see a clinic's reputation and results is to see their before and after hair transplant gallery, and check out their hair transplant reviews. If possible, take a look at independent review sources like Trustpilot and Google reviews.
Finding the best UK hair transplant surgeons
A clinic is only as good as their surgical team. So make sure the staff at your chosen clinic are experienced and fully qualified
To find the best UK hair transplant surgeon, find out who your surgeon will be in advance, and feel free to ask them about their previous work during your consultation.
Are UK hair transplant clinics safe?
UK hair transplant clinics are among the safest in the world. They're required to adhere to strict safety regulations and qualifications, and, unlike in certain other countries, it's more difficult to evade these in the UK.
To be on the safe side, only work with clinics who are registered with the Care Quality Commission.
Best cities in the UK for a hair transplant
London has the most choice when it comes to hair transplant clinics. Home to the world-famous Harley Street, where dozens of the world's best healthcare providers operate, London is one of the most popular destinations for getting a hair transplant in the UK.
Many other major cities are also hair transplant hubs, including Bristol, Birmingham, Leicester, Manchester, and Glasgow. But there is some regional variation in pricing. Sheffield and Hertfordshire are the cheapest places to get a hair transplant, while Manchester and Portsmouth are the most expensive locations.
Accommodation options in the UK
The UK has accommodation options to suit all budgets. Expect to pay more for a hotel in central London than other places around the country. There are plenty of hotels on or near Harley Street. In a quality 3* hotel, a single en-suite room will set you back around £75, while a double is closer to £95.
Reliable budget-mid range hotel chains in the UK include:
Travelodge
Premier Inn
Ibis Budget
Holiday Inn
The Wimpole Clinic in London has partnered with nearby hotels to offer discounted rates for our patients. We also offer packages for international patients which include accommodation and travel.
Some overseas hair transplant clinics — such as those in Turkey — offer tempting packages that include hotel stays and airport transfer. But this may come at the expense of safety and good results [2].
Most UK clinics don't offer these all-inclusive packages. While this makes the UK a more expensive option, it's less risky than getting a hair transplant in Turkey. This also gives you greater flexibility over where you stay — if you want a little more luxury after your procedure, treat yourself to a higher budget hotel.
Why choose the Wimpole Clinic for your UK hair transplant?
The Wimpole Clinic is one of the UK's longest-running hair transplant clinics. We've been operating for almost 50 years — and we have a fantastic track record of treating patients from overseas, too.
We have multiple locations across the UK. Hair transplant surgery takes place in our London and Birmingham clinics, with pre- and post-operative services also available in Bristol and Leicester.
Visit the Wimpole Clinic for a hair transplant and get:
Affordable prices, starting at £2,999 — some clinics charge £15,000-£30,000 for a hair transplant, but we keep our hair transplant prices within an affordable range
VIP experience — we make sure all our patients have the fantastic experience they've travelled for
Hair transplant packages — international patients can get packages that include travel and accommodation along with their surgery
Fantastic service — our hair transplant reviews are testament to the service we provide
An amazing view — our theatre boasts one of the best views in the UK.
John, a 47-year-old expat living in Hong Kong, visited our London hair transplant clinic for his FUE procedure. Here's how he described his experience:
"I cannot recommend Wimpole Clinic highly enough. Both the doctor and his entire support team were exceptional. The clinical assistants were very helpful in explaining what was happening and also advising on their progress."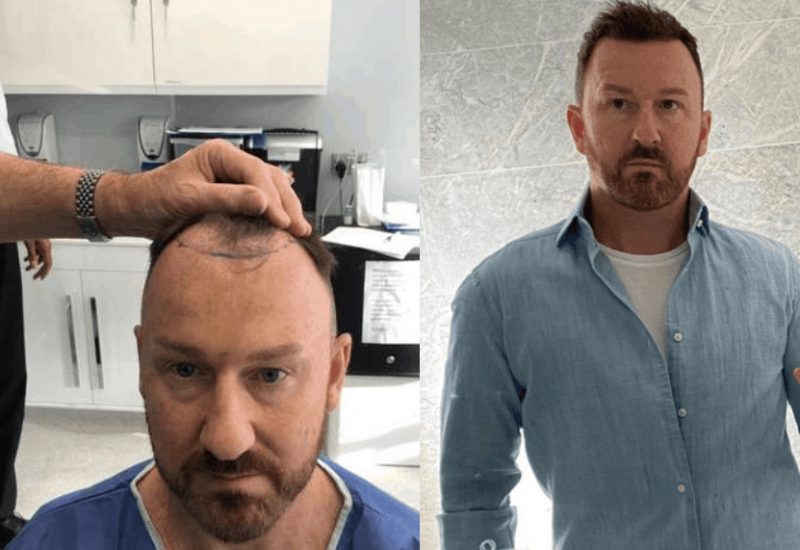 "The clinic had organised a number of follow-up consultations to ensure my head was healing properly before my scheduled long haul flight back to Hong Kong. They were able to remove the vast majority of the scabs before my flight. I simply kept a hat on during the flight and felt no discomfort."
Premier League footballer Rob Holding's hair transplant also took place at the Wimpole Clinic. But unlike other celebrities, who are reported to have paid upwards of £30,000 for a hair transplant, Rob's hair transplant achieved fantastic results at an affordable price.
Rob's hair transplant surgeon, Dr Sciacca, reported, "We respect the privacy of all of our patients. What I can say is [Rob] did not pay much more or less than the average UK figure we discovered in our cost analysis."
Rob is thrilled with his results. In an Instagram post, he said:
"I struggled so much with my hair and self-confidence. I have had so many messages about where I had my procedure. The Wimpole Clinic in London treated me so well and I am so happy with the results.
"I've had so many messages from other people affected by [similar] mental health issues and self confidence issues, I couldn't recommend this place enough!"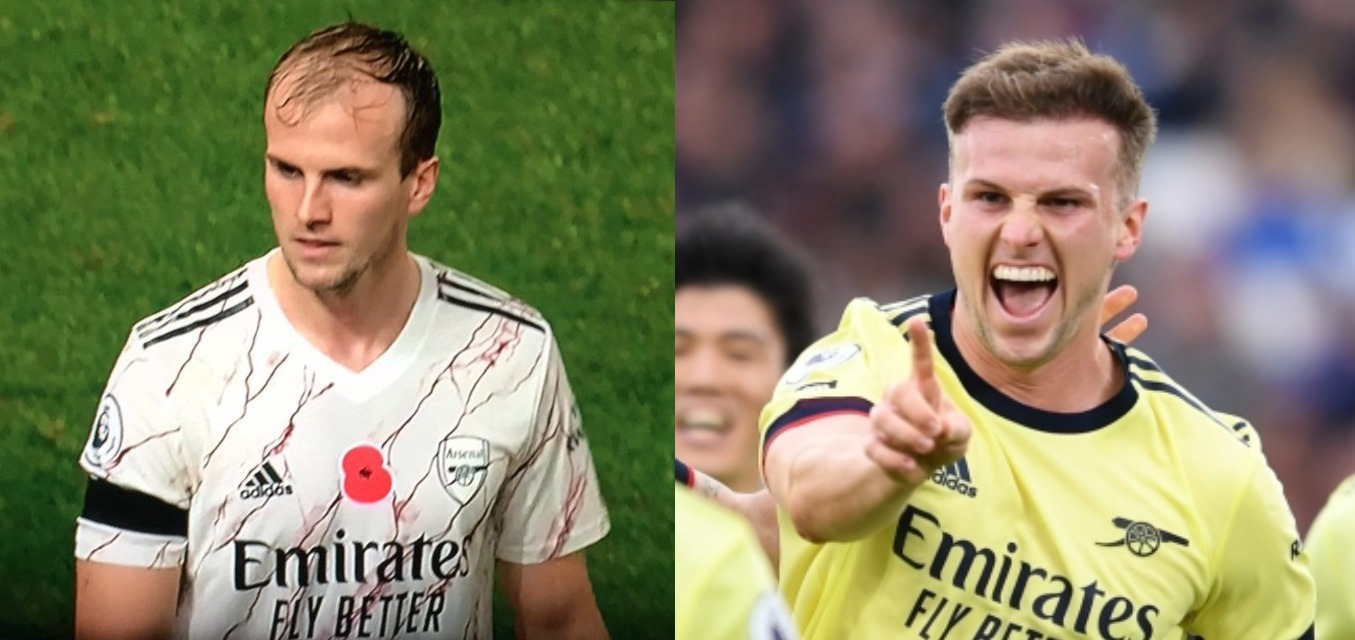 Ready to travel to the UK for your hair transplant? Book a free online consultation with our friendly hair transplant team to get started.
Sources:
The Wimpole Clinic offers FUE Hair, Beard & Eyebrow Transplants & Trichology.
Talk to a specialist ☎
020 7935 1861
.
Blog search
Book a consultation
Simply fill in your details in the form below and we'll get in touch with you shortly.